There is quite a lot that can go wrong with a chimney, and there are many different types of repairs that a chimney may require over its lifetime.
Why Might My Chimney Need Repaired?
Here are just some of the reasons that you may need to get your chimney repaired;
Damaged mortar/joints
Rust on chimney crown
Leaking chimney
Cracked chimney flue
Chimney repointing
Chimney re-lining
Blockage removal
As you can see there are many things that can go wrong with a chimney. That's why it's important to properly maintain and inspect them yearly, this way you can save yourself the hassle of having to repair and pay for expensive chimney repairs in the future.
How Much Does Chimney Repair Cost?
The cost of a chimney repair will be determined by a lot of factors, including; the size of the chimney and repairs needed. Here is a quick breakdown of the average cost some common chimney repairs:
Type of Repair
Purchase Cost*
Installation/Service Cost*
Total Cost*
Chimney Cowl
£50
£75-£100
£125-£150
Chimney Sweeping
£50
£50
Chimney Repointing
Small chimney: £450

Medium chimney: £750

Large chimney: £1000

£450-£1000
Chimney Removal
Small chimney: £750

Medium chimney: £1000-£1300

Large chimney: £1500+

Waste Disposal: £200-£400

£950-£1900+
Leadwork
Small-medium chimney: £600-£800

Large chimney: £900-£1000

£600-£1000
*Prices may vary between companies.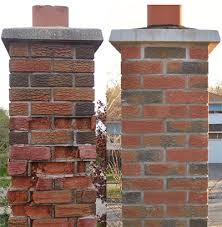 Benefits of Hiring a Chimney Repair Specialist
There are many benefits of ensuring that whoever you choose to repair your chimney has the right expertise.
Quality Service
When you hire a professional to repair your chimney you are guaranteed a quality service that no cowboy builder will ever be able to match.
May Work Out Cheaper in the Long Run
Hiring someone who isn't trained and qualified just because it's a little bit cheaper may actually end up costing you more money! If a poor job is done you may have to hire someone else to come and fix it anyway, when you could have just got the job right the first time.
Ensures Structural Stability
The last thing you want is a heavy brick chimney that is structurally insecure. Ensuring a professional repair's your chimney helps ensure safety.
A Good Looking Chimney Can Increase Property Value
If your garden was dilapidated and looking a bit worse for wear this would affect your house value, same goes for your chimney. Having a nice looking chimney can actually help increase the value of your property.
How to Avoid Needing Chimney Repair
To avoid needing chimney repair, regular upkeep and inspection are both essential. Some chimney inspection you can do yourself from the ground, but it is recommended to get a professional chimney inspection at least once a year – depending on what type of chimney you have.
Even if you no longer require the use of your chimney you shouldn't just leave it. There are many options when it comes to not needing your chimney before. These include